DIABETES DURING PREGNANCY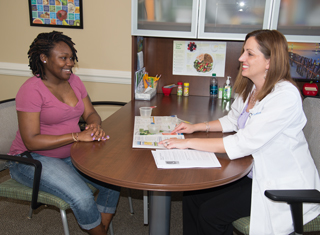 Approximately 6-7% of all pregnancies are complicated by diabetes with the majority being diabetes occurring only in pregnancy, called gestational diabetes. When diabetes occurs in pregnancy, it increases the risk of hypertension, preeclampsia and cesarean delivery for the mother. Gestational diabetes also increases her chance of developing Type 2 diabetes later in life requiring life-long screening at least every three years. For the baby, maternal diabetes can increase the chance of birth defects and many other complications related to increased birth size.
Many bodily changes occur during pregnancy. When diabetes occurs in pregnancy, it requires close monitoring to optimize the health of the mother and baby. At Down East Diabetology, we provide expertise in every type of diabetes with accessibility, complementary to your obstetric care, to support you during this exciting time.
Gestational diabetes mellitus. Practice Bulletin No. 137. American College of Obstetricians and Gynecologists. Obstet Gynecol 2013;122:406-16.
---